Here in Portland, up to 20-30% of the population suffers from decreased mood and fatigue during the dark and cloudy days of winter. This has been called the "winter blues" and more serious variants of this are typically called Seasonal Affective Disorder.  By a long shot, the most well researched and effective treatment for this kind of seasonal depression is light therapy. Light therapy is fairly simple and typically involves sitting in front of a special kind of light every morning. It works really well and most people respond within in two weeks of beginning the treatment. If you have symptoms of seasonal affective disorder or the "Winter Blues" you should seriously consider getting light therapy device. Also, make sure to see a doctor to get screened for other problems that might be making you feel depressed in the winter.
Unfortunately, the manufacture and sale of light therapy devices is completely unregulated by the government. This means that there are a lot of people out there buying devices which are not effective and who may end up concluding that light therapy does not work for them, when actually they bought a poorly-made device. It's not easy to tell scam light therapy devices from legitimate ones, but below I'll give you some tips that might help.
Typically, a good light therapy device is a little expensive. If someone is selling you a broad spectrum light therapy device for under $150, you should probably be suspicious (though there are some exceptions). It's likely that it has not been manufactured to the standards used in the research studies and could be ineffective or potentially dangerous for your vision. Tested devices are typically 10,000 lux at 12″ or more from your eyes (a measure of intensity) and should say something about being "broad spectrum" and have shielding from harmful "UV rays." It's the UV rays that are put off by fluorescent lights that can harm your eyes.
Unfortunately, one of the biggest sellers of questionable light therapy devices is Costco. I was at Costco the other day and was able to take some shots of the product they are selling: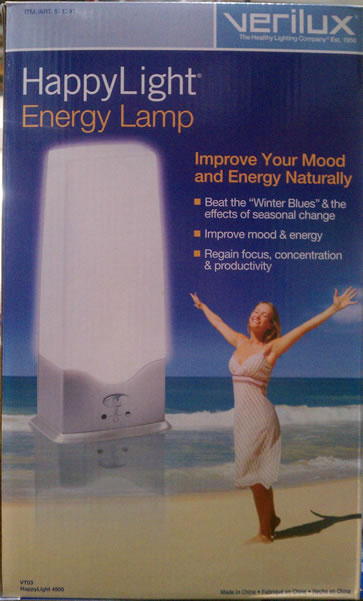 It would be hard to tell why this device won't work, unless you know a bit about light therapy devices and also look at the small print below: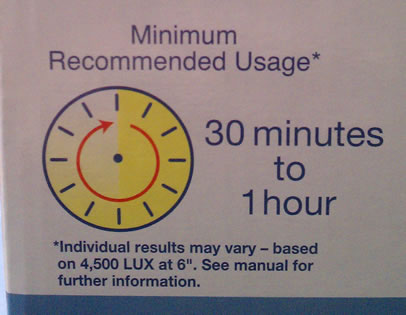 Fortunately, they actually specify how much light it is emitting so that you can tell that it won't work. The light above only provides 4,500 lux at 6 inches from your eyes. A well manufactured device provides 10,000 lux at a comfortable distance (typically 12-24 inches). Who would ever sit with a light only six inches from their eyes? And even if they did, it would still not be strong enough to be effective without spending a lot of time in front of it. If you spend your money on this device, it's wasted.
So my bottom line recommendation is DO NOT BUY THIS DEVICE. It will not work.
If you would like some advice on products that are worth the investment, here are some recommendations (updated 6/13/20):
This device is probably the best one available on a consumer website like Amazon. The benefits are that it is up on a stand, which makes it more likely that the light will be positioned above your eyes, which is key for light  therapy to work. It also has a large surface area, which is important. The downside is that the device needs to be about 12″ away from your eyes to be at the recommended 10,000 Lux that has been used in studies. If you carefully follow the directions, and sit with it relatively close to you, then most people should get good benefits. This is the device suggested by the Center for Environmental Therapeutics, which is a non-profit dedicated to making light therapy more accessible. It was also recently picked as the best light therapy lamp by Wirecutter as well.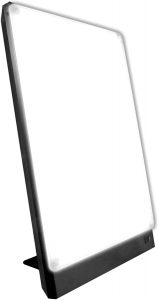 An advantage of this light over the Carex is that is gives you 10,000 lux at 14″ which means it can be a little farther away and still work. It also has a sleeker design if you like this look better. The main downside is that it's not elevated, meaning you have to be a bit more careful where you are looking when you use it. But it's pretty big, so it should work nevertheless. This one was also recommended on Wirecutter as well, so that's another thing in its favor.
This device is more expensive than the ones above and so I'd only recommend it if you know you have problems with the white light from the devices above and think that a blue tinted light might be easier on your eyes or help with any headaches that some people get. This light is based on newer research about the how blue light affects our eyes and circadian rhythms. It's not quite as proven as the broad spectrum lights above, but is an alternative to the brighter, white lights if those bother your eyes or you want to try something more portable. Just make sure when you are using it that you are looking at something below the light (the light needs to hit your eyes from above). It's also quite small, which makes it portable for travel, but also means it won't work as well as it needs to be shining directly into your eyes, which can be hard to position correctly. So all in all, buy the other ones unless you know they won't work for you or need something portable.
Update 6/13/20: Don't be fooled. Costco continues to sell the Verilux light above, but with a new name. The box for the new light says it's a bit brighter, but still needs to be 6 inches from your eyes to work. That's an impractical distance for most people. Don't buy it. The new name for the questionable device is the "Verilux Happylight Liberty." Given the poor track record of this company, I'd consider this new device similarly questionable. Avoid it. 
If you'd like some suggestions on other light therapy devices, or general info about SAD, click here.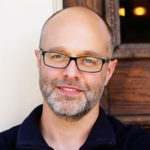 Jason is a psychologist and scientist who studies ways to help people with shame, stigma, and social anxiety, including using psychedelic and MDMA-assisted therapy