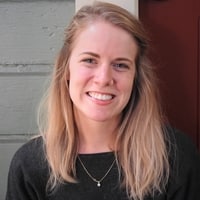 I specialize in helping people suffering from self-critical, shame-based thinking develop a kinder stance toward themselves and embrace their common humanity. I incorporate active methods to support clients in building a life that matters to them.
I am providing telehealth services at this time.
As a therapist and researcher, I am passionate about helping people who suffer from pervasive self-criticism and negative self-image. I am particularly interested in working with individuals struggling with chronic shame and perfectionism, reactions to traumatic experiences, and anxiety disorders (social anxiety, OCD, generalized anxiety, panic disorder). My goal in therapy is to help clients be more present with their feelings and practice ways of being kinder and more accepting of themselves. I work from a Cognitive Behavioral Orientation, most often applying techniques from Acceptance and Commitment Therapy and Exposure-Based Therapies. These approaches are informed by science and take an active approach to learning and practicing new skills to help people create richer, more meaningful lives.
My practice is grounded in compassion and curiosity. I work with people to discover what truly matters to them and help them work toward goals in line with these values. In doing so, I strive to create a safe environment for clients to take risks and explore more helpful ways of relating to painful thoughts and feelings that may have kept them feeling "stuck" or hopeless in the past. Ultimately, it is my goal to support people to become gentler with themselves and others, helping them to feel empowered to build a life they find meaningful – no matter what thoughts or feelings show up.
Finally, I strive to honor individual experiences and practice from a stance of cultural humility. I welcome clients from all backgrounds and seek to create a safe atmosphere to explore all aspects and intersections of identity. My practice is based on the values of ongoing learning, openness, and the belief that all humans have intrinsic, inherent worth.
---
Things I've Written
---
My background:
I am a psychologist resident working towards licensure in the state of Oregon and a recent graduate of the University of Wyoming with a Ph.D. in Clinical Psychology. I completed my predoctoral internship at the Rocky Mountain Regional VA Medical Center in Denver, CO, where I honed skills in evidence-based treatments for Depression, Post-traumatic Stress Disorder, Anxiety Disorders, and self-directed violence. I am humbled and grateful to serve members of the Portland community through my work at Portland Psychotherapy. While I cannot accept insurance at this time, my position a psychologist resident allows me to offer you current, evidence-based clinical interventions under the supervision of experienced clinicians at low cost.
Treatment Approach
Orientation: Acceptance and Commitment Therapy (ACT), Exposure-Based Therapies, Dialectical Behavior Therapy skills
Modalities: Individuals, Groups
Client Focus
Ages: 18+
Special Populations: LGBTQIA+ affirmative, Veterans, Women, Individuals from diverse backgrounds
Qualifications
Practicing Since: 2013
Degree: : Ph.D., Clinical Psychology
Year Graduated: 2019
License Number and State: Psychologist Resident Supervised by Dr. Jenna LeJeune, Licensed Psychologist in Oregon #1600
Specialties
Self-criticism, shame, & perfectionism
Self-compassion
PTSD and trauma exposure
Anxiety disorders
Financial
Average Cost: $25-$110
Accepted Insurance Plans: none, out of pocket payments only
How I can help:
Please feel free to contact me if you are seeking support related to self-criticism and shame, self-injury or suicidal thinking, or difficulties managing emotions related to depression, anxiety, or reactions to traumatic experiences. I am also a good option for those without health insurance. If you choose to work with me, I will help you hold your thoughts more lightly and connect with your emotions more fully. Rather than fearing your emotions, we will view them as guideposts to signal what matters to you and use them to enrich your self-worth, sense of purpose, relationships, and quality of life. I look forward to hearing from you.
Email Address: klear@portlandpsychotherapy.com
Phone: 503-281-4852 ext. 217
To contact me, call me at 503-281-4852 x217, or use the confidential contact form below.