Take a look inside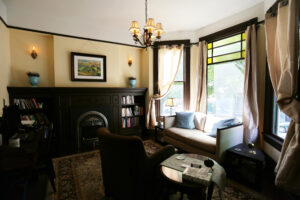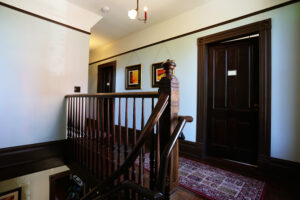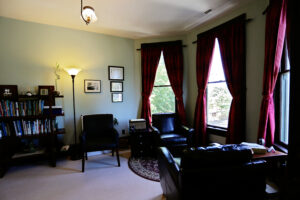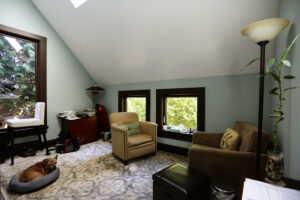 When Portland Psychotherapy was founded in 2007, we were a small, 3-person operation that shared a single office space. Oh, how times have changed! In the summer of 2013, after a year-long rehabilitation process, we finally realized our dream and moved into our beautiful, permanent new space at 3700 N. Williams Ave. We feel very fortunate to be able to do this work that we love in such a beautiful setting and we wanted to share a bit about the building with you.
History of the building
Built in 1889 as the homestead for John F. Peterson, a prominent business owner and chicken breeder, this once glorious Victorian building we now call home had fallen on tough times. In more recent times, the building was the home of the William Harris family. Mr. Harris was an important business man in this predominantly African-American neighborhood and owned several local businesses including the "House of Sound," which was located just next store at 3620 N Williams.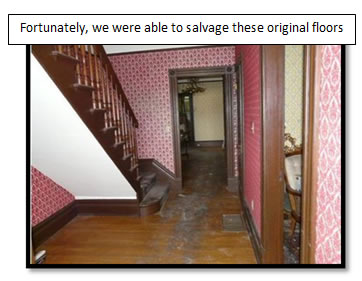 Unfortunately, in the intervening years, the house had fallen into disrepair and when we bought it in May of 2012, it was in a terrible shape. But the building had great bones and a wonderful, rich history, and we were committed to saving this one piece of Albina history. So, with the incredible work of Wes Ayers, Nick Weitzer, and the rest of the team at NWC, we started the year-long process of restoring this painted lady to her previous glory.
The first order of business was to replace the building's nearly 125 year-old brick foundation. This involved quite a feat of engineering, and the entire house was raised up on stilts for several months while the foundation work was done. Although not a small project, raising the building did allow us to raise the height of the ceilings in the basement to nearly 10 feet, giving us a full third floor of offices.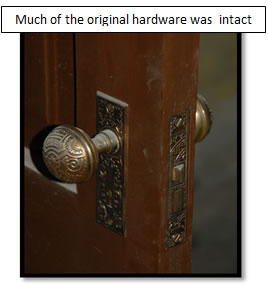 Once the building was safely back on solid ground, the interior work began. While all of the electrical, plumbing, and heating/cooling systems had to be completely replaced, the crew at NWC did an amazing job at preserving everything they could in terms of the original character of the home. In fact, we were able to salvage most of the original fir floors on the main floor as well as nearly all of the original windows, woodwork, and old door hardware. In addition, one of our favorite features of our new space are all the period light fixtures.
We are so grateful to our friend Chris Wilson, owner of Hard To Find Houseparts , for all he did to outfit the entire building with 19th century gas lamps that he lovely restored and converted to electric. They are so beautiful and really add to the authenticity of the building.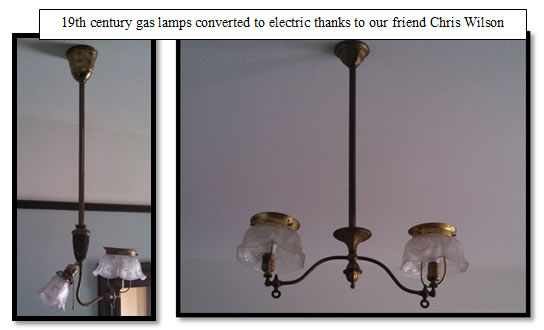 Current state
Our space currently includes 16 offices, including dedicated space for running our research studies and a wonderful closed-in former sun porch for our incredible administrative staff. Although the building is nearly 125 years-old and we have kept as much of the original architecture as possible, it has all the amenities of a completely modern office. And while we worked hard to preserve as much of the original structure as we could (because we know the "greenest" building is a "reused" building), for those things that we did need to replace or rebuild, we tried to select the most environmentally friendly materials we could, from no-VOC paint and natural, wool carpet to a tankless water heating system and French drain system to irrigate what will be our low water use landscaping.
The privacy and security of those we serve are paramount to us here at Portland Psychotherapy. All the therapy offices are equipped with special sound-proofing features including sound board in the walls and autodrop systems on the doors in order to ensure privacy. The state-of-the-art security features include keyless locks and a code-accessed entry so that the building is secure at all times. Each floor of the building has its own waiting room and there are indicator lights wired in each of the therapy offices so that you can let your therapist know you have arrived.
In addition, we wanted to make sure to create a warm and inviting atmosphere for our clients. There is chilled water and tea service available when you arrive. Each of the offices is unique and beautifully reflects the original character of the home, from the office that was in the front parlor with its amazing 7-foot bay windows, to the office in what was the sitting room with a working gas fireplace, to the office in the former upstairs bedroom with vaulted ceilings and skylights to let in the natural light. No matter which office you come to we hope that you will find it comfortable.
And one of the most important features of our new space is that it is accessible to those with mobility issues. Our mission at Portland Psychotherapy is to make effective, science-based psychotherapy available to ALL in our community. All offices, the bathroom, and public spaces on the main floor of the building are ADA accessible, as will be all the offices and public spaces on the ground floor once construction in that area has been completed. In addition the building is equipped with a wheelchair lift which can support up to 700 lbs and a reserved parking space directly outside the building for people with a disabled person parking permit. For more information about accessibility and ADA features of the building, click here.