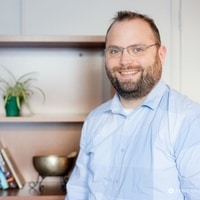 When you are stuck, it can be hard to imagine a way out. Therapy can help give you a vision and the necessary tools to move from living to thriving. I work to create a space of compassion and nonjudgment where meaningful change is possible.
I am providing only telehealth services at this time.
While some people seek therapy to address a specific problem such as anxiety or depression, others use therapy as an aid for personal growth, learning about themselves, or reaching their full potential. When I meet a new client, the most important thing is to get to know them and build a safe, trusting relationship. I strive to be compassionate and nonjudgmental and want clients to feel free to be themselves and get in touch with what matters most. This can involve feeling painful emotions and facing things that they have avoided. This is not easy to do, but it's courageous and ultimately rewarding. I am highly encouraging and patient as clients take steps toward their goals. It really is possible to break out of old habits and rigid thought patterns that keep us stuck! While much of therapy involves talking and sharing, I also incorporate skills-building, learning about emotions, goal setting, or out-of-session exercises.
In therapy, I use evidence-based methods such as Acceptance and Commitment Therapy (ACT) and Cognitive Behavioral Therapy (CBT). When working with clients, I take time to highlight their strengths, connect them with their inner wisdom, and show them how to be kinder and more accepting of themselves. I also draw on my own experiences working in diverse settings to take into account each client's unique set of prior life experiences, cultural background, socioeconomic status, gender identity, sexual orientation, and potential experiences with systemic power imbalances. I value principles of equity and inclusion and want my clients to feel that they are respected, understood, and capable of enacting change in their lives.
I specialize in the treatment of anxiety disorders (OCD, generalized anxiety, social anxiety, panic disorder), trauma and PTSD, and matters related to the use of psychedelics. I am also experienced in working with depression or general life dissatisfaction, coping with challenging problems, loss or grief, sleep difficulties, and identity issues. I also highly enjoy working with people within the LGBTQ+ community. While I integrate mindfulness principles throughout all my sessions, I also have experience with teaching meditation for clients interested in a more serious study of mindfulness or who are interested in developing a regular mindfulness practice. As an active researcher, I also value keeping up to date with the most recent developments in therapy technologies so that I can bring the best treatment that science has to offer. Ultimately, I wish to draw upon all of my training and experience to help clients be their best selves.
Psychedelic Safety and Integration Services
In addition to the above, I am passionate about the potential for psychedelic substances such as psilocybin, MDMA, and ayahuasca to be used as tools for personal growth and in the treatment of mental health problems such as anxiety and depression. I have been studying psychedelics for over 20 years, including earning an M.A. in East-West Psychology at the California Institute of Integral Studies and attending numerous trainings and conferences. I am involved in several research studies on psychedelics at Portland Psychotherapy, such as a clinical trial investigating the use of MDMA to treat social anxiety, as well as public education and advocacy to reduce stigma associated with psychedelic use.
Psychedelic Integration and Support Group: I am currently facilitating an online support group for people who are interested in talking with others about their psychedelic experiences. The group is for people who have had prior psychedelic experiences and are interested in a therapeutic and intentional approach to integration work. You can find out more or sign up for the group here.
Individual Consultation and Therapy: I meet with individuals who are considering using psychedelics or have used them in the past and who could use support around the role of psychedelic experiences in their lives. Please note that I do not facilitate access to psychedelic substances or experiences in any way. You can learn more about those services and sign up for them here.
---
Things I've Written
---
Treatment Approach
Orientation: Evidence-based treatments that include: Acceptance and Commitment Therapy, Exposure Therapy, Cognitive Behavioral Therapy, Dialectical Behavioral Therapy, Mindfulness
Modalities: Individuals
Client Focus
Ages: Adults
Special Populations: LGBTQIA+ Affirmative
Qualifications
Practicing Since: 2007
Degree: Ph.D.
Year Graduated: 2014
License Number and State: Licensed Psychologist in Oregon #3144 and Washington PY61273015
Specialties:
Generalized anxiety
Obsessive-compulsive disorder
Panic disorder
Social anxiety
Trauma and post-traumatic stress disorder
Specific phobia
Psychedelics
Mindfulness
LGBTQIA+ populations
Depression
Financial
Average Cost: $220
Accepted Insurance Plans:  PacificSource and I accept most other insurance as an out-of-network provider.
How I can help:
If you are interested in working with me, feel free to call or submit an online message.  I will contact you for a brief 5-10 minute phone screen where I can also answer any questions you may have.  Typically, we will meet for 1-2 consultation sessions to fully assess your needs and discuss how we might work together.  In therapy, it is important to trust your provider.  Therefore, it is important to me that you feel comfortable with our working relationship and if you decide that we are not a good match, I am more than happy to provide referrals for other options.
Email Address: bpilecki@portlandpsychotherapy.com
Phone: 503-281-4852
To contact me, call me at 503-281-4852, or use the confidential contact form below.