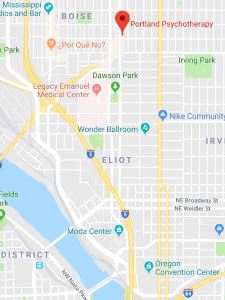 Address
3700 N Williams Ave
Portland, Oregon 97227
View Map or get directions

Phone number
(503) 281-4852
Fax number
(503) 575-3711
Click here for directions to Portland Psychotherapy
Looking for a therapist? 
If you're looking for a therapist, we have created a therapist matching survey to make the process of matching you to the right therapist as painless as possible. Just click below.
Questions about insurance or billing?
If you have a question about billing or insurance, please call 503-281-4852 or go to our informational webpage about insurance billing.
Confidential Contact Form
Traveling by public transportation:
Bus 44 has a stop at N Williams and NE Beech, which is immediately in front of our building.
Bus 4 has a stop at N Williams and N Cook. If you get off at that stop, walk 3 blocks North on Williams. Our building will be on the right.
Bus 6 stops at the corner of NE MLK and NE Beech. From that stop, walk five blocks west on NE Beech. Our building will be on the right.
By bike: Our building is located on one of the most popular bike commuter routes in the whole city — the N. Williams Corridor! We have plenty of bike parking outside the building.