Do you bill insurance?
Yes! We accept and bill most insurance companies (except Kaiser), or you can pay out of pocket if that is your preference. We also can provide sliding scale services for those who ask.
We are in-network with:
Oregon Health Plan
CareOregon / Healthshare of Multnomah/Washington/Clackamas counties
Trillium
Feel free to contact us to see if we can help.
To learn more about your rights rights and protections against surprise medical bills, you can read more here. 
What insurance companies do you accept?
We are contracted with Oregon Health Plan, specifically we take Open Card, Trillium, and Care Oregon/Healthshare of Multnomah/Washington/Clackamas counties. Several of our therapists are in-network providers for a limited number of insurance carriers, including PacificSource and First Choice. To learn more about the insurance companies specific providers are in-network with, please look at the 'Financial' section on their profile page. However, even if we are not in-network providers for your particular insurance carrier, most insurance plans offer out-of-network benefits and we also bill those insurance companies as well.
What are the pros and cons of using insurance to cover psychotherapy?
It's important to us that our clients understand how insurance works so that they can make a decision about whether or not to use insurance to help pay for their therapy.
At Portland Psychotherapy, we know that therapy can be helpful in many situations, from personal growth and help adjusting to new life circumstances, to more longstanding or pervasive psychological difficulties. As such, many of the people we serve may be coming to see us for something other than help with an identified mental health diagnosis. We work with people all across the spectrum. However, in order for an insurance company to reimburse for psychotherapy, the insurance company must deem that the therapy is "medically necessary." Generally, this means that insurance will only cover a portion of the cost of therapy if you are assigned a mental health diagnosis (e.g. Major Depressive Disorder, Panic Disorder, etc.). This means that, if you use insurance, you will have a diagnosis given to you and this will be submitted to your insurance company. This will happen any time you use your insurance benefits to pay for mental health care, regardless of whether you choose to work with Portland Psychotherapy.
For many of our clients, having a mental health diagnosis in their health record is not a concern or the benefit of having their insurance help cover the costs outweighs that concern. For others, however, they would prefer to not be assigned a mental health diagnosis and thus they prefer to pay for therapy without using insurance. In this case, no diagnosis will be submitted to anyone, including your insurance company.
We are pleased to be able to bill insurance when our clients want that and when it is applicable. At the same time, we feel that is important that people know how that system works so that they can make the best decision.
How do I find out if my insurance will cover work at your center?
As a service to our clients who have insurance, we are happy to assist in helping determine what your particular co-pay and deductible will be for either in-network or out-of-network benefits. We understand that trying to navigate the financial aspects of receiving treatment, including insurance benefits, can be difficult and confusing and we will do our best to help in any way we can with that process. You can either fill out our therapist matching survey or give us a call at 503-281-4852 and we'll check your insurance benefits for you.
How much will my insurance cover?
Well, it depends and unfortunately sometimes the way insurance plans are set up it isn't all that easy to figure out. While insurance companies will not provide us with a guarenteed quote of how much they will cover, our billing staff will do their very best to work with your insurance company to get an estimate of what your out of pocket costs will be. To help you navigate the sometimes complicated insurance process, we've created an Insurance Guide (see below) explaining some of the insurance terms and how coverage works for therapy. While we are happy to communicate with your insurance company on your behalf, you may also wish to speak with your insurance company or your company's HR department directly to learn the specifics of your policy.
We understand that insurance and other financial difficulties can present barriers for people entering therapy. However, we hope that you will also consider what value you would place on your psychological and emotional health. If you knew that the work you would do in therapy could be a way for you to honor and improve those relationships, experiences, and activities that are most important to you, what would that be worth to you?
INSURANCE GUIDE: DEFINITIONS OF TERMS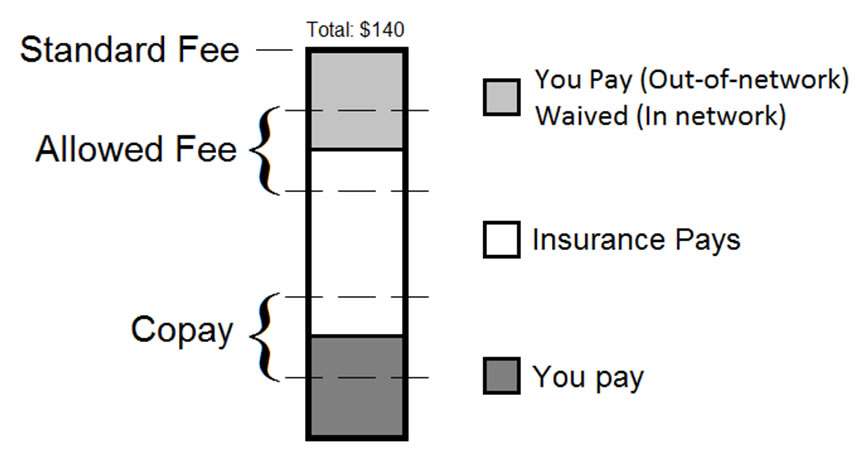 Note: Your actual Total Standard Fee for a session will depend on which provider you are seeing and what services you are receiving (e.g., intake assessment, individual therapy, group therapy, etc.).
The "Standard Fee" (or Provider Fee) is how much your therapist charges for a given service, based on his or her expertise, preference, and typical fees for psychotherapy in your local area.
The "Allowed Fee" (or Usual and Customary Fee) is the amount that your insurance company says psychotherapy is worth. The allowed fee is subject to change by your insurance company at any time and often insurance companies cannot quote the current rate, which is based on a variety of complicated factors. While your insurance company may not be able to produce a figure that we can guarantee, our billing staff can come up with an estimate of this figure for you.
The "Copay" (or Co-Insurance) is how much of the Allowed Fee that your insurance company asks you to pay.
An "Out-of-network" provider is a therapist who can take your insurance, but who does not have a specific contract with your insurance company. Your out-of-pocket expenses will usually be higher if you are seeing an out-of-network provider. However, depending on your policy, there are also certain advantages to working with an out-of-network provider. For example, certain limitations may be lifted (e.g., limits on the number of sessions you can be seen). Furthermore, you may wish to work with an out-of-network provider because you feel comfortable working with this person, or because you want to see a specialist or expert to get the best possible care for the issues you are facing.
An "In network" provider is a therapist who has a contract with your insurance company, meaning that you do not have to pay the difference between the Allowed fee and the Standard fee. However, your insurance company may impose certain restrictions on in-network providers, and if you limit yourself to in-network providers you will have fewer options when choosing a therapist.
You may also need to pay off a "Deductible" before your insurance takes effect. Usually this means that you pay the Standard Fee out of pocket until the amount you have paid equals the amount of your Deductible, after which your insurance will begin covering their portion of the Allowed Fee. This is sometimes combined with your medical deductible and sometimes waived for mental health services in particular.
EXAMPLE: Suppose that your therapist has a Standard Fee of $140/session and is an out-of-network provider. Also suppose that your insurance company has an Allowed Fee of $100, and that they cover 60% of the allowed fee. You would therefore have a copay of $40 (40% of the $100 Allowed Fee) and a remaining fee of $40 (The difference between the Standard Fee and the Allowed Fee), meaning that you pay $80/session and your insurance pays $60/session.
We are very happy to help you navigate through insurance to move forward with your treatment at Portland Psychotherapy. If you have further questions, please feel free to call our billing department at 503-281-4852.
If you have a question you can also contact us using the confidential form below.