"If we want to discover the full potential in our humanity, we need to celebrate those heartbreaking strengths and those glorious disabilities that we all have…it is our humanity, and all the potential within it that makes us beautiful." – Aimee Mullins
As a therapist, I sit face to face every day with people's suffering. And regardless of what form that suffering takes, whether that be trauma, a psychiatric diagnosis like "depression" or "bipolar disorder," or a physical disability, a very common experience is that people feel "broken" or "defective" in some way because of their suffering.
Enter Aimee Mullins. Ms. Mullins is an internationally renowned athlete, model, and actress. She is also someone who was born with a medical condition called fibular hemimelia which resulted in having to have both of her legs amputated when she was a year old. I came across this inspiring TED talk she gave in 2009, in which she talks about the beauty and potential that lies within our common humanity. In addition to the absolutely amazing and beautiful prosthetics she has helped design (think cheetah legs and exquisite wooden legs with handcarved vines running throughout them), I was struck by her story of adversity bringing beauty and meaning to life. Adversity is an inevitable part of life and our culture may sometimes make us feel "broken" or "defective" because of it. But within adversity, as Amy Mullins says, we can also find "… our humanity and all the potential within it that makes us beautiful."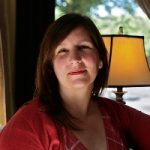 Jenna LeJeune, Ph.D. is co-founder and President of Portland Psychotherapy Clinic, Research, and Training Center in Portland, Oregon. As a clinical psychologist, Jenna specializes in working with clients struggling with relationship difficulties, including problems with intimacy and sexuality, trauma-related relationship challenges, and struggles people have in their relationship with their own bodies. She is the co-author of the forthcoming book, "Values in Therapy: A Clinician's Guide to Helping Clients Explore Values, Increase Psychological Flexibility, and Live a More Meaningful Life." Jenna is also a peer-reviewed ACT trainer and provides ACT trainings to professionals around the world.