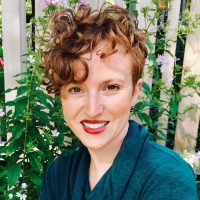 Finding courage, together.
I am providing telehealth services at this time and can help you check whether your insurance will provide coverage. 
As a child clinical psychologist, my specialty is working with children and adolescents (up to age 21) with problems related to anxiety. In addition to anxiety I also help kids and adolescents with:
depression
coping with medical diagnoses
developing social skills
peer difficulties
ADHD
I take an individualized approach to therapy rooted in evidence-based practices including Cognitive Behavioral Therapy (CBT), Acceptance and Commitment Therapy (ACT), Parent-Child Interaction Therapy (PCIT), and Parent Management Training Oregon Model (PMTO). These treatment modalities all emphasize active goal-setting, skill-building, and problem-solving. My aim is to put you and your child in the driver's seat; this means helping you both identify the goals that are meaningful to you, build the skills you need to accomplish them, and make a plan for getting you there. Because of this active and collaborative approach, I am a good fit for children and families who are able to commit time in between sessions to reviewing concepts and practicing skills.
Additionally, I always take a comprehensive approach to addressing concerns. While the focus will be on your child, parent involvement is crucial and you should expect to attend sessions at least some of the time, depending on the age of your child. Finally, in some cases, with your permission, it may also be important for me to work with your child's school and to help you collaborate with school staff, as well.
---
Things I've Written
---
Treatment Approach
Orientation: I always take an individualized approach to therapy rooted in evidence-based practice and especially emphasize Exposure-Based Cognitive-Behavioral Therapy (CBT). CBT is one of the most widely used approaches for treating anxiety and emphasizes the ways in which our thoughts, feelings, and behaviors influence one another. Exposure-based CBT has been shown to be particularly effective in treating anxiety and involves gradually facing feared situations. In this type of treatment, the individual works with the therapist to design "exposures" to the situations that provoke discomfort, thereby reducing symptoms over time by gradually facing more challenges. Although difficult at times, it can also be an incredibly rewarding experience where kids find out just how brave they really are.
In addition to CBT, I also draw from a variety of other evidence-based practices as needed, including Acceptance and Commitment Therapy (ACT), Parent-Child Interaction Therapy (PCIT), and Parent Management Training Oregon Model (PMTO).
Modalities: Individual, Parent-child, Parent guidance
Client Focus
Ages: Children and adolescents (ages 2-21)
Special Populations: LGBTQ affirmative, medically-complex populations
Qualifications
Practicing Since: 2013
Degree: Ph.D.
Year Graduated: 2016
License Number and State: Licensed Psychologist in Oregon #3203. Licensed Psychologist in Minnesota LP6238.
Specialties:
Generalized Anxiety
Sleep difficulties (difficulty falling and staying asleep, nightmares, night-time fears, etc.)
Social Anxiety
Health Anxiety
Phobias
Selective Mutism
Panic Disorder
OCD
Tic Disorder/Tourette's Disorder
Repetitive hair pulling or skin picking
School refusal
Perfectionism
Stress due to transitions
Coping with chronic health issues
Financial
Average Cost: $185-$225
Accepted Insurance Plans:  My services would be billed under out of network benefits. I am not in-network for any insurance panels at this time.
How I can help:
I have specialized exclusively in the treatment of children and adolescents since graduate school. Given this background, I have a strong understanding of typical development, how development can get "off-track," and how to guide it back on course. Additionally, I know how crucial it is to make therapy fun and engaging in order for kids to be successful. Although structured in my approach, I am creative in incorporating play and in finding methods to teach and practice skills in a way that children and adolescents can enjoy.
If you are interested in learning more about me or would like to inquire about availability, feel free to message or call me directly.
Email Address: jsapienza@portlandpsychotherapy.com
Phone: (503) 281-4852 ext 222
To contact me, call me at 503-281-4852 ext 222, or use the confidential contact form below.